all articles
arts and culture
09.06.2016
DAVIS BOWIE IS
July 14 - November 13 2016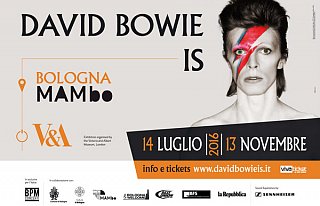 Finally arriving in Italy! David Bowie Is, one of the most successful exhibitions of the last few years designed by the Victoria and Albert Museum of London, is the first international retrospective of the extraordinary career of David Bowie – one of the most pioneering and influential performers of the contemporary music scene. Bologna is the only Italian venue and the last chance to visit the exhibition in Europe.
David Bowie Is, first opened in London in 2013 and then on tour in Chicago, San Paolo, Toronto, Paris, Berlin, Melbourne and Groningen, from July 14 to November 13, 2016 will be displayed at MAMbo.
The exhibition celebrates the prolific career of David Bowie who across five decades was able to be always innovative without betraying himself and his fans.
Its multi-media design creates an immersive journey through Bowie's creative process and demonstrates how his work has both influenced and been influenced by wider movements in art, design, theatre and contemporary culture. The exhibition portrays Bowie as an artist likely to look at the society with an innovative way, leaving an indelible mark on the visual pop culture.
The curators Victoria Broackes and Geoffrey Marsh have selected more than 300 objects from Bowie's personal archive which will be displayed in Bologna.
Online ticket advance sale: www.davidbowieis.it/en/