all articles
arts and culture
23.08.2014
BOLOGNA JAZZ FESTIVAL NOVEMBER 2014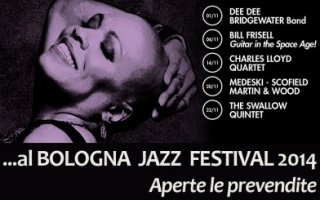 nOVEMBER 1-22 A jazz invasion in Bologna and Ferrara theatres and jazz clubs
TICKETS AVAILABLE FOR THE 5 CONCERTS IN THE THEATRES
In November 2014 the new edition of Bologna Jazz Festival will be invading Bologna and Ferrara. A whole month of appointments with jazz stars' concerts in the main city theatres (five concerts at Teatro Manzoni, Teatro Arena del Sole, Teatro Duse) while famous international artists will play in many Bologna jazz clubs (Cantina Bentivoglio and Bravo Caffè) as well as in Ferrara (Teatro Comunale and Torrione Jazz Club).
Full programme will be announced for the end of summer. Nevertheless, dates of the 5 concerts in Bologna theatres have already been fixed and tickets are available:
Saturday, November 1 - Teatro Manzoni
DEE DEE BRIDGEWATER Band
Dee Dee Bridgewater, voice; Theo Croker, trumpet; Irwin Hall, flute and saxophone; Sullivan Fortner, piano; Eric Wheeler, double bass; Kassa Overall, battery
Tuesday, November 4 – Auditorium Unipol
BILL FRISELL "Guitar in the Space Age!"
Bill Frisell, guitar; Greg Leisz, mandolin and steel guitar; Tony Scherr, bass; Kenny Wollesen, battery
Friday, November 14 - Teatro Arena del Sole
CHARLES LLOYD QUARTET
Charles Lloyd, flute and saxophone; Gerald Clayton, piano; Joe Saunders, double bass; Eric Harland, battery
Thursday, November 20 - Teatro Duse
MEDESKI-SCOFIELD-MARTIN & WOOD
John Scofield, guitar; John Medeski, keyboards and organ; Chris Wood, bass and guitar; Billy Martin, battery
Saturday, November 22 - Auditorium Unipol
THE SWALLOW QUINTET
Steve Swallow, bass; Carla Bley, organ; Chris Cheek, tenor sax; Steve Cardenas, guitar; Jorge Rossy, battery
This year too Bologna Jazz Card offers special discounts for concert passes.
Further information and updates on BolognaJazzFestival